About ENVIS

About Us



About ENVIS
INTRODUCTION
Realising the importance of Environmental Information, the Government of India, in December, 1982, established an Environmental Information System (ENVIS) as a plan programme. The focus of ENVIS since inception has been on providing environmental information to decision makers, policy planners, scientists and engineers, research workers, etc. all over the country.
Since environment is a broad-ranging, multi-disciplinary subject, a comprehensive information system on environment would necessarlly involve effective participation of concerned institutions/ organisations in the country that are actively engaged in work relating to different subject areas of environment. ENVIS has, therefore, developed itself with a network of such participating institutions/organisations for the programme to be meaningful. A large number of nodes, known as ENVIS Centres, have been established in the network to cover the broad subject areas of environment with a Focal Point in the Ministry of Environment & Forests. Both the Focal Point as well as the ENVIS Centres have been assigned various responsibilities to achieve the Long-term & Short-term objectives. For this purpose, various services has been introduced by the Focal Point. ENVIS due to its comprehensive network has been designed as the National Focal Point (NFP) for INFOTERRA, a global environmental information network of the United Nations Environment Programme (UNEP). In order to strengthen the information activities of the NFP, ENVIS was designated as the Regional Service Centre (RSC) of INFOTERRA of UNEP in 1985 for the South Asia Sub-Region countries.
Objective of Environmental Information System
Long-term objectives :
To build up a repository and dissemination centre in Environmental Science and Engineering.
To gear up the modern technologies of acquistion, processing, storage, retrieval and dissemination of information of environmental nature; and .
To support and promote research, development and innovation in environmental information technology.
Short-term objectives :
To provide national environmental infformaion service relevant to present needs and capable of development to meet the future needs of users, originator, processors and disseminators of information;
To build up storage, retrieval and dissemination capabilities with the ultimate objectives of disseminating information speedily to the users;
To promote, national and international cooperation and liasion for exchange of environment related information;
To promote, support and assist education and personnel training programmes designed to enhance environmental information processing and utilisation capabilities;
To promote exchange of information amongst developing countries.
Responsibilites of Focal Points & ENVIS Centres
Both the Focal Point as well as the ENVIS Centres have been assigned various responsibilities. The broad responsibilities of the Focal Point and ENVIS Centres are as under :
Responsibilities of Focal Point
overall coordination of ENVIS network;

identification of ENVIS Centres in specialised areas, their location in selected institutes/organisations and their linkage with the Focal Point;
farming guidlines and uniform desiging procedures for ENVIS Centres;

collection, storage, retrieval and dissemination of information on areas in which ENVIS Centres have not been established and in some general areas of environment like environmental research, environmental policy and management, environmental legislation, environmental impact assessment, etc.;

responding to user queries directly or through the ENVIS Centres;

Establishment of Data Bank containing data on some selected parameters, and computerisation in important application areas of environment;
identification of data gaps and knowledge gaps in specified subject areas and action to fill these gaps;
liasion with relevant International Information Systems and other national information systems;

publication of a quarterly abstracting journal Paryavaran Abstracts;

bringing out various other publications on current awareness services;

organising training and seminars;

monitoring and rewiewing of ENVIS; and

assisting the Scientific Advisory Committee of ENVIS with inputs and rendering other secretarial help.
Responsibilities of ENVIS Centres:
building up a good collection of books, reports and journals in the particular subject area of environment;

establishment of linkages with all information sources in the particular subject area of environment;
responding to user queries;
establishment of a data bank on some selected parameters relating to the subject area;
coordination with the Focal Point for supplying relevant, adequate and timely information to the users;
helping the Focal Point in gradually up an inventory of information material available at the Centre; identification of information gaps in the specified subject areas and action to fill these gaps;

bringing out newsletters/publications in their subject area for wide dissemination

For more information click Website : http://www.envis.nic.in
ENVIS Centre, IFGTB
Name of ENVIS Centre:
ENVIS Centre on "Forest Genetic Resources and Tree Improvement."
Host Organisation:
Indian Council of Forestry Research and Education (ICFRE)
Year of establishment:
2014.
Activities of the Centre:
1. Distributed Information Centre (DIC): The centre was set up in the year 2014 to act as a network partner of the Environmental Information System (ENVIS). It provides data and information on all aspects of Forest Genetic Resources and Tree Improvement.
3. To provide Environment related data and information by website with the ultimate objective of disseminating information speedily to the users.
4. To Publish information booklets and pamphlets on topics related to control of pollution and protection of environment.
5. To Maintain liaison with international organizations/institutions for exchange of information on Forest Genetic Resources and Tree Improvement
6. ENVIS Publications: A quarterly Newsletter based on Forest Genetic Resources and Tree Improvement.
ENVIS Team
1. R.S. Prashanth, IFS
Director
Phone: +91 422 2431942, 2484100 | Fax: +91 422 2430549
email-id: dir_ifgtb@icfre.org, prashanthrs@icfre.org
2. Dr Kannan C.S.Warrier
Scientist 'E' & ENVIS Coordinator
Phone: +91 422 2484181 | Fax: +91 422 2430549 |
email-id: ifgtb@envis.nic.in, kannan@icfre.org


About Us
INTRODUCTION
The subject of conservation and management of Forest Genetic Resources is gaining tremendous significance world over and particularly in India as the country has a rich repository of FGR particularly tree resources of ecological and economical significance. In view of their socio-economic importance and contribution to the forest based industries, a large number of initiatives have been taken in the country for improving the productivity of forest plantations through tree improvement, involving breeding, biotechnology and silviculture. However, the information on these valuable resources as well as the improvement efforts lies scattered in various statistics and research reports of forest departments, agricultural universities and wood-based industries.
The Ministry of Environment and Forests, has recognised the Institute of Forest Genetic Resources Tree Breeding, Coimbatore for establishment of a Thematic ENVIS on Forest Genetic Resources and Tree Improvement (FGR-TIP). The Centre was formally inaugurated by Dr. V. Rajagopalan, then Secretary, MoEF, Government of India on 3rd February, 2014 during the Fifth InternationalCasuarina Workshop held at Mamallapuram in the presence of Dr N. Krishna Kumar then Director, IFGTB and Dr. Balakrishna Pisupati, then Chairperson, National Biodiversity Authority.
The potential of FGRs being large in a country like India, where a large sector of the rural population are dependent on forest genetic resources for livelihood security and poverty alleviation, there is a need to churn out large volumes of information on FGRs through research being carried out by various organisations in the country. IFGTB will be the single window information provider on FGR through this ENVIS centre for ecological and economic gain through trees.
Institute of Forest Genetic and Tree Breeding
Institute of Forest Genetic and Tree Breeding (IFGTB), Coimbatore is a National Research Institute under the Indian Council of Forestry Research and Education.

VISION
IFGTB envisions a wood secure society. To achieve this vision our Mission will be to enhance socio- economic conditions of tree growers, reduce environmental degradation and secure genetic stocks of tree resources. Our approach will be participatory research for development.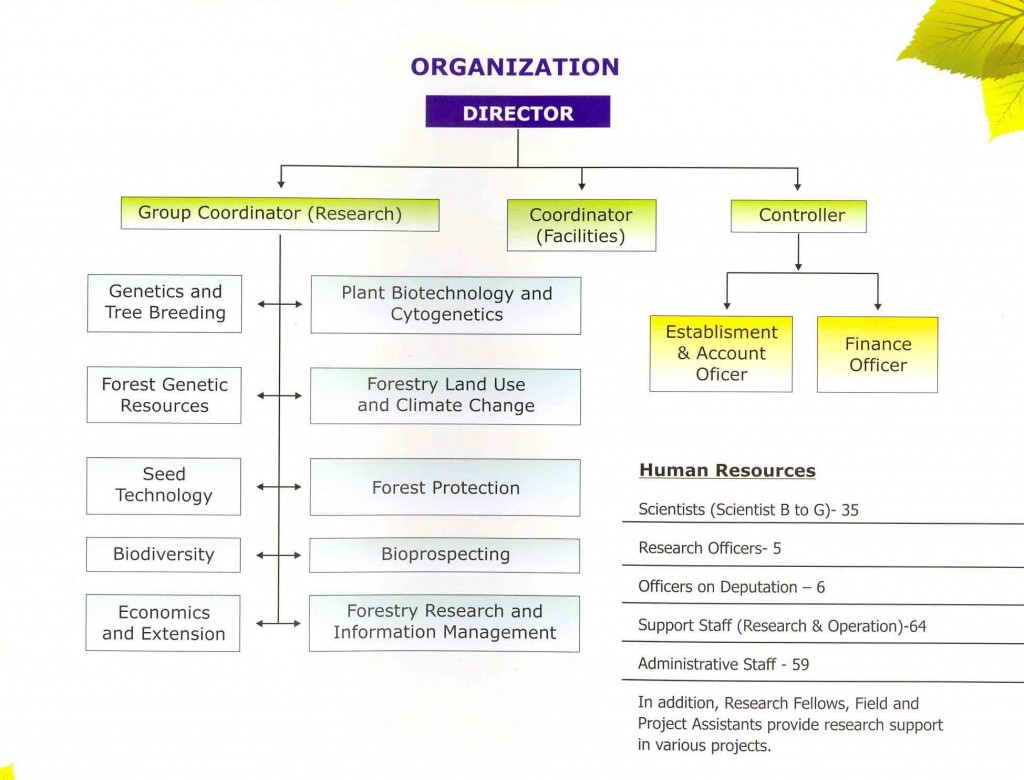 MANDATE
National
Assess the genetic variability, identify varieties within the forests of Western and Eastern Ghats and the Island forests, and work on the indigenous species available in the forests for productivity enhancement, biodiversity conservation besides working on selected exotic species of high economic importance and contribute to livelihood enhancement and the development of tree based enterprises and activities in the mandated states. Thus IFGTB will also work on the problems faced by the forest departments, industries and other stakeholders of the mandated states.
Regional
To attend to the research requirements of the states of Tamil Nadu and Kerala and the Union Territories of Puducherry, Andaman & Nicobar Islands and Lakshadweep.
For More Information Please Click Here