Customised Hands-on Bhuvan Training Programme for ENVIS Centres 2015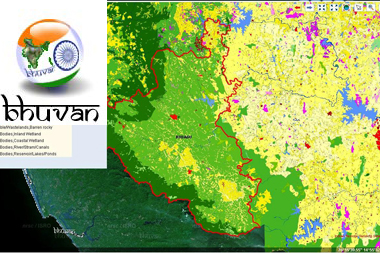 A 2-day training programme for ENVIS Centres held at Jodhpur at National Remote Sensing Centre (NRSC), ISRO, Jodhpur during 15th and 16th October, 2015. Twenty five participants from 22 ENVIS Centres— comprising both thematic and State/UT Centres— were shortlisted for attending the programme. This training programme intends for skills development during this training session to become useful in creating and disseminating content relating to the themes assigned to ENVIS Centres in geo-spatial platform in Bhuvan portal. Senior Scientists from NRSC, ISRO demonstrated how Bhuvan portal resources could be used for enriching the content of ENVIS websites. It is emphasized that features of Bhuvan portal may be used by State and Thematic ENVIS Centres for further dissemination of information.
Indian State Level Basic Environmental Information Database
In order to develop the databases on environment and its related parameters and to make it online to the Ministry for to and fro information flow, a web enabled software, namely, Indian State Level Basic Environmental Information Database (ISBEID) was developed by ENVIS in collaboration with National Informatics Centre (NIC). The objective for development of this software is to cover the gap in environmental data dissemination with regard to vast parameters such as air pollution, water pollution, forestry, land resources, flora and fauna, etc. In total there are 17 modules. Initially, the database consisting of 23 modules in various environmental fields was tested on pilot basis by Eight States with 12 modules in two phases. During the two phase of the programme, it was observed that there were some practical problems in collecting the data and filling the database software. After deliberations, it was decided that the existing 23 modules will be revisited and revised in consultation with all the States / UTs ENVIS Centres and to extend the ISBEID project for all the States / UTs.
Visit ISBEID →
State of Environment Reports
During the 10th Plan period, Ministry launched SoER scheme for which 100% central assistance was provided to the States/UTs to prepare their State of Environment Reports. The scheme for preparation of State of Environment Report with the objective of highlighting the upstream and downstream linkages with environmental issues besides creating a baseline document in the form of SoE Report in each State/UTs continued during the 11th Five Year Plan.
Read Reports →